Anzac Day Hours:
Sunday 25 April - ANZAC Day 1-7pm
Monday 26 April - 12 -6pm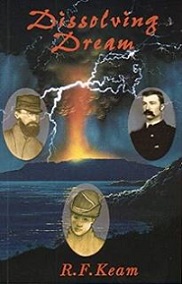 Title:
Dissolving Dream - The Improbable Story of the First Baptist Maori Mission
Published by the author, RF Keam, Physics Department, University of Auckland, 2004. Signed by the author. Born from passionate endeavours of a young American semi-invalid to better the conditions of the Maori people living in the Rotorua lakes district of the North Island of New Zealand, the first Baptist Maori Mission had an unususal history and an even more unusual fate. This was no saga of a visionary Christian group sallying forth from the home of ivilization to evangelise the world. It began almost by accident, was originally conceived not as a Baptist task at all, and arrived on the scene nearly seventy years after the gospel had first been proclaimed on these Pacific shores. Nevertheless for a time it exerted a profound influence on the local indigenous population and briefly claimed the support of a substantial non-conformist denomination. Only the barest outlines of this intriguing story have been told before, and then only in relatively inaccessible places. It deserves to be better known. Interactions between some of the participants were dramatic and unexpected. The geographic setting made its own contribution: remarkably and perhaps uniquely, in the end not only did the mission vanish, so also did the mission field.