Arty Bees is now operating under Orange restrictions.
You can order via our website.  All web orders are delivered via courier and NZ Post. 
Store pick ups can be ordered online or organised by phone and email.
To keep up with all the Arty Bees news subscribe to our newsletter at the bottom of the page.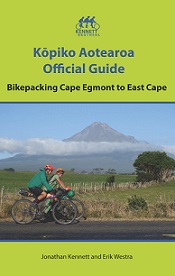 Title:
Kopiko Aotearoa Official Guide - Bikepacking Cape Egmont to East Cape
Pubished by The Kennett Brothers, Wellington, 2020, booklet of 60 pages.
A cape to cape journey covering an ambitious 1,060 km across the North Island. Pedal your way off the beaten track on a hilly and scenic route that reveals heartland New Zealand ... This guide includes cue sheets, maps and elevation charts, plus details about transport, accommodation and cafes along the way...