We are now accepting books for exchange only.
Please ring first if you have more than 3 boxes to bring in.
We are not buying books for cash yet. We will keep you posted.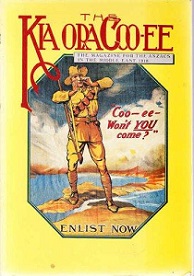 Title:
The Kia Ora Coo-ee: The Magazine for the Anzacs in the Middle East, 1918
The Kia Ora Coo-ee magazine was written and edited by Australian and New Zealand troops serving in Egypt, Palestine, Salonica and Mesopotamia. It was printed in Cairo and appeared in monthly issues between March and December 1918. The magazine's stated policy was "to give all ranks the king of magazine they desire."