We are buying books again.
Please ring first if you have more than 3 boxes to bring in.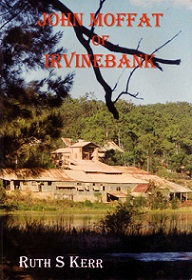 Title:
John Moffat of Irvinebank: A Biography of a Regional Entrepreneur
J.D. & R.S. Kerr, 2000. Faded spine, otherwise good condition. John Moffatt was involved in the establishment of mines in North Queensland, notably at Chillagoe and Irvinebank. He was unusual in looking after the interests of his workers and was seen as a "monument to honesty". This is a very well researched biography of the man and his work. It covers a very interesting, rugged and remote part of Australia. It includes information on construction and early operation of the Chillagoe, Mount Molloy, Mount Mulligan, and Mount Garnet railways, and the Irvinebank and Stannary Hills tramways. It also includes information on the tramways in the Chillagoe area. Most of this has not been published before.