We are delighted to be open
Our Queen's Birthday hours on Monday 1 June are 12 till 6.
There are Covid-19 protocols in place to keep our staff and customers safe.
Please abide by these and please don't visit us if you are feeling unwell.
Please note, we will NOT be buying or exchanging books under Level 2.
Thank you for your on-line support during Level 3 and for your patience with the delays in delivery.
We look forward to seeing you all in store soon.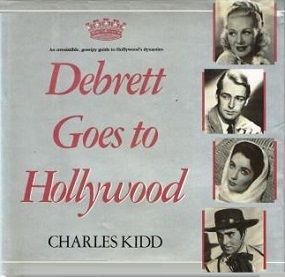 Title:
Debrett Goes to Hollywood
How are Humphrey Bogart and Diana, Princess of Wales, related? What screen floozie, descended from the Plantagenet kings, married her former stepson? Kidd, editor of Debrett's Peerage, the standard genealogical guide to the British aristocracy, answers these questions and more in this intriguing and original book. Kidd has applied his research skills to the dynasties of Hollywood to produce 41 detailed family trees. By studying these tables the complicated ties of blood and multiple marriages that link Hollywood can be clearly discerned. The accompanying text provides the stories behind many of the names. Though the focus is on the Golden Era of Douglas Fairbanks, the Barrymores, et al., their descendants still reign, as this book reveals. Hollywood fans will be fascinated.