We are delighted to be open
We are open normal hours.
There are Covid-19 protocols in place to keep our staff and customers safe.
Please abide by these and please don't visit us if you are feeling unwell.
Please note, we will NOT be buying or exchanging books under Level 2.
Thank you for your on-line support during Level 3 and for your patience with the delays in delivery.
We look forward to seeing you all in store soon.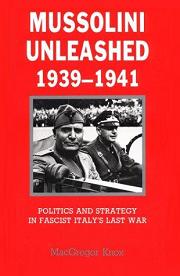 This book explores the motives, preparation, objectives, contact and consequences of Italy's war of 1940, which ended the country's role as a great power and reduced it to the status of first among Germany's satellites. What Professor Knox demonstrates more clearly than any previous biographer or historian is the limits of Mussolini's power. In particular, thanks to exhaustive research in the relevant archives, he has been able to throw important new light on Mussolini's relations with his military advisers and commanders. His scholarship is first-class, and for once a publisher's blurb does not exaggerate in claiming that his book is 'superbly written'...