Thanks to everyone who saw our note that we are buying again.
The response has been huge.
So huge that we need to slow down in order to get all the books
we have bought over the last 2 weeks on the shelf for you to buy.

We are still buying but selectively.
So, please call if you have more than 3 boxes.
Some sections are overflowing, particularly children's, detective and cooking.

On a similar note if you are looking for
Children's books, detective novels or cook books, we have heaps of new stock.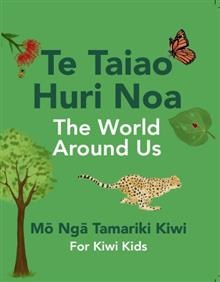 Title:
Te Taiao Huri Noa - The World Around Us
It's a big wide world out there, full of curiosities and wonderments that catch the eyes of Kiwi kids. This latest book from the dynamic duo of Katie Kool and Cindy Tan showcases delightful illustrations of familiar items with their English and Te Reo Maori words. And just to keep the little one's on their toes, there is a bonus list of things to find to help with engagement and recall.