Thanks to everyone who saw our note that we are buying again.
The response has been huge.
So huge that we need to slow down in order to get all the books
we have bought over the last 2 weeks on the shelf for you to buy.

We are still buying but selectively.
So, please call if you have more than 3 boxes.
Some sections are overflowing, particularly children's, detective and cooking.

On a similar note if you are looking for
Children's books, detective novels or cook books, we have heaps of new stock.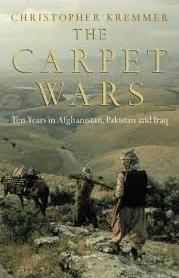 Title:
The Carpet Wars - A Journey Across the Islamic Heartlands
Christopher Kremmer's odyssey through the crescent of Islamic nations began in the early 1990s, when he arrived in Afghanistan to meet the communist-backed president, Mohammed Najibullah. On the outskirts of Kabul, mujahideen rebels were massing while the carpet dealers of the old city continued to ply their timeless trade. Kremmer was in Kabul when the mujahideen turned their guns on one another after ridding the country of the hated communists. He was there when the Taliban came and the army of religious students - aided by the wealthy Arab radical Osama bin Laden - emerged from the scorched earth to implement their vision of "a pure Islamic state." A travel memoir, The Carpet Wars offers a personal, vivid, and revealing look at Islam's human face, wracked by turmoil but sustained by friendship, industry, and humor. It is also a historical snapshot of countries at the center of global confrontation that exploded onto the homefront on September 11, 2001...
Second hand Trade Paperback
ISBN:
9780732268565 9780007142392