Our next book club meeting is on Monday 9 August.  Our theme for this month is music.
Call or email us to find out more about the book club.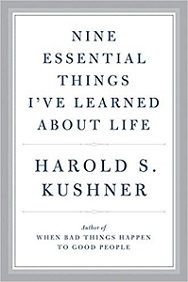 Title:
Nine Essential Things I've Learned About Life
As a congregational rabbi for half a century and the best-selling author of twelve books on faith, ethics, and how to apply the timeless wisdom of religious thought to everyday challenges, Rabbi Harold S. Kushner has demonstrated time and again his understanding of the human spirit. In this compassionate new work, his most personal since When Bad Things Happen to Good People, Kushner relates how his time as a twenty-first-century rabbi has shaped his senses of religion and morality. He elicits nine essential lessons from the sum of his teaching, study, and experience, offering a lifetime's worth of spiritual food for thought, pragmatic advice, inspiration for a more fulfilling life, and strength for trying times.