Our next book club will be meeting on Monday 12 July and we will be discussing books with a seafaring theme.
Call or email us to find out more about the book club.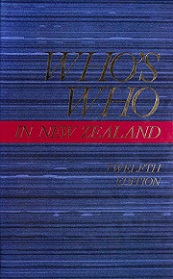 Title:
Who's Who In New Zealand - 12th Edition
Reed, 1991. Tidy condition with DW. Who's Who In New Zealand was founded in 1908 and is the only complete and authoritative work of contemporary biography in New Zealand. It is published at three-yearly intervals.