Our next book club will be meeting on Monday 12 July and we will be discussing books with a seafaring theme.
Call or email us to find out more about the book club.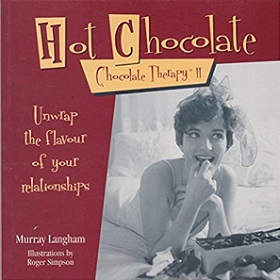 Title:
Hot Chocolate - Unwrap the Flavour of Your Relationships
When your partner chooses a chocolate, which centre do they pick? Almond? Peppermint? Strawberry? And which centre do youselect? The chocolate choices we make tell us a great deal about ourselves, and about our relationships. Are you a chocolate marriage made in heaven, or a disaster waiting to happen? Will sex with the centre you love be great or merely average? Which combinations work and which are absolute no-nos? Murray Langham takes us on another journey into the world of chocolate fun and passion. The brilliant illustrations by artist Roger Simpson will further enhance your journey into sensual and unexpected dimensions.