We are delighted to be open
Our Queen's Birthday hours on Monday 1 June are 12 till 6.
There are Covid-19 protocols in place to keep our staff and customers safe.
Please abide by these and please don't visit us if you are feeling unwell.
Please note, we will NOT be buying or exchanging books under Level 2.
Thank you for your on-line support during Level 3 and for your patience with the delays in delivery.
We look forward to seeing you all in store soon.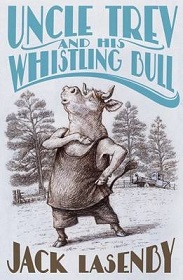 Title:
Uncle Trev and His Whistling Bill
It's the 1930s. Our storyteller is crook in bed trying to get over a long sickness and wanting to go back to school, when Uncle Trev arrives to let Mum go out and do the shopping. Uncle Trev tells one story after another about the animals out on his farm, and about his neighbour Gotta Henry. He also goes through Mum's cupboards and helps himself to all her gingernut biscuits and Louise cake. If you think Mum should be grateful to get out of the house, she's not. When she comes home, she chases Uncle Trev and his dog, Old Tip, with her broom and threatens what she'll do to 'that man' next time he comes in....