Thanks to everyone who saw our note that we are buying again.
The response has been huge.
So huge that we need to slow down in order to get all the books
we have bought over the last 2 weeks on the shelf for you to buy.

We are still buying but selectively.
So, please call if you have more than 3 boxes.
Some sections are overflowing, particularly children's, detective and cooking.

On a similar note if you are looking for
Children's books, detective novels or cook books, we have heaps of new stock.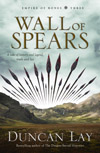 It is time to decide who will rule the lands and control the magic. Will it be Forland, with its lust for bloody conquest? Will it be Dokuzen, with its dreams of a slave empire, or will it be Vales, armed only with Rhiannon and her magic - and the truth about why the rulers of Dokuzen claim to be elves? Into this mix comes Sendatsu. Rejected by his true love, hated by his father, hunted by his former best friend, he now burns with the desire to build a better world for his children. Betrayal follows lies which follows more betrayal as the true power behind the vicious struggle is revealed. The fate of all the lands rests on a sword's edge . . .
Second hand Trade Paperback