We have stopped buying, we are accepting lots for exchange and credit.
Our Winter operating hours are
Monday to Thursday 9am - 6pm
Friday 9am -7pm
Saturday 10am - 7pm
Sunday 11am - 6pm
Arty Bees is now operating under Orange restrictions.
You can order via our website.  All web orders are delivered via PBT Couriers or NZ Post. 
Store pick ups can be ordered online or organised by phone and email.
To keep up with all the Arty Bees news subscribe to our newsletter at the bottom of the page.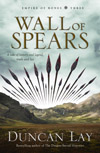 It is time to decide who will rule the lands and control the magic.
Will it be Forland, with its lust for bloody conquest? Will it be Dokuzen, with its dreams of a slave empire, or will it be Vales, armed only with Rhiannon and her magic - and the truth about why the rulers of Dokuzen claim to be elves?
Into this mix comes Sendatsu. Rejected by his true love, hated by his father, hunted by his former best friend, he now burns with the desire to build a better world for his children. Betrayal follows lies which follows more betrayal as the true power behind the vicious struggle is revealed. The fate of all the lands rests on a sword's edge . . .
Second hand Trade Paperback