We are now accepting books for exchange only.
Please ring first if you have more than 3 boxes to bring in.
We are not buying books for cash yet. We will keep you posted.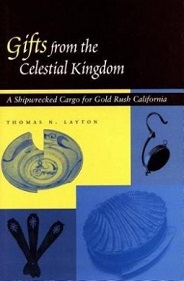 In a prior volume - "The Voyage of the "Frolic": New England Merchants and the Opium Trade" - historical archaeologist Thomas N. Layton told the story of his excavation of an ancient Pomo Indian village site in Northern California, where, to his surprise, he recovered Chinese porcelain potsherds. Tracing those sherds to a beach on the rugged Mendocino coast, he then followed them out to the submerged remains of the Frolic, a sailing vessel wrecked in the summer of 1850 with a rich cargo of Chinese goods bound for Gold Rush San Francisco. In that volume, Layton used the vessel's earlier role, transporting opium from Bombay to Canton, as a vehicle to tell the story of American participation in the opium trade. Although the Frolic's career as an opium clipper was ended in 1849 by the introduction of steam vessels, the almost simultaneous discovery of gold in California suddenly created enough purchasing power to support direct commerce with China - and thus a new career for the Frolic. In this sequel volume, Layton has two objectives. First, he employs the Frolic's ill-fated first, and final, cargo to San Francisco to tell the broader story of the beginnings of direct commerce between China and California. Second, he attempts to explore the potential of contextual archaeology - the intellectual process of "transporting" artifacts from their resting places back to the behavioural contexts in which they once functioned. Layton accomplishes his objectives by describing the full trajectory of the Frolic's final cargo from four different perspectives: from that of John Hurd Everett, the California merchant who assembled the cargo in China; then from the perspectives of the sailors and Pomo Indians who pillaged the cargo immediately after the wreck; then through the eyes of 20th-century sport divers who plundered it yet again; then, finally, through Layton's scientific perspective as an archaeologist. To augment his quest for context, he employs carefully documented vignettes to fill the interstices between the facts. Throughout, he discusses his research - replete with visits to archives and antique shops - and in so doing introduces readers to the practice of modern historical archaeology....