Thanks to everyone who saw our note that we are buying again.
The response has been huge.
So huge that we need to slow down in order to get all the books
we have bought over the last 2 weeks on the shelf for you to buy.

We are still buying but selectively.
So, please call if you have more than 3 boxes.
Some sections are overflowing, particularly children's, detective and cooking.

On a similar note if you are looking for
Children's books, detective novels or cook books, we have heaps of new stock.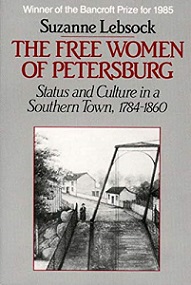 Title:
The Free Women of Petersburg: Status and Culture in a Southern Town, 1784-1860
In this book, which has important implications for our vision of the female past, Suzanne Lebsock examines the question, Did the position of women in America deteriorate or improve in the first half of the nineteenth century? Focusing on Petersburg, Virginia, Professor Lebsock is able to demonstrate and explain how the status of women could change for the better in an antifeminist environment. She weaves the experiences of individual women together with general social trends, to show, for example, how women's lives were changing in response to the economy and the institutions of property ownership and slavery. By looking at what the Petersburg women did and thought and comparing their behavior with that of men, Lebsock discovers that they placed high value on economic security, on the personal, on the religious, and on the interests of other women. In a society committed to materialism, male dominance, and the maintenance of slavery, their influence was subversive. They operated from an alternative value system, indeed a distinct female culture.