UPDATE - Selling books to Arty Bees.
We are accepting books for exchange at the moment.
We may buy selectively for cash, but please contact us first.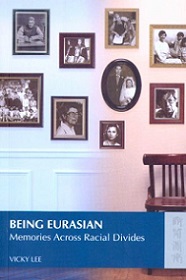 Title:
Being Eurasian: Memories Across Racial Divides
This book is a description and analysis of the lives of three famous Hong Kong Eurasian memoirists, Joyce Symons, Irene Cheng and Jean Gittins, and explores their very different ways of constructing and looking at their own ethnic identity. Please note: Previous owner's inscription inside.