Thanks to everyone who saw our note that we are buying again.
The response has been huge.
So huge that we need to slow down in order to get all the books
we have bought over the last 2 weeks on the shelf for you to buy.

We are still buying but selectively.
So, please call if you have more than 3 boxes.
Some sections are overflowing, particularly children's, detective and cooking.

On a similar note if you are looking for
Children's books, detective novels or cook books, we have heaps of new stock.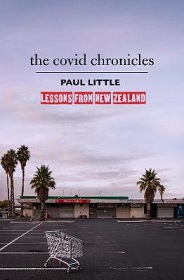 Title:
The Covid Chronicles - Lessons From New Zealand
Harper Collins, 2020 The dramatic story of New Zealand's response to a global pandemic. For the first time in history, on 15 March 2020 the New Zealand government closed the country's borders. What followed was a story unprecedented in almost every way imaginable. Featuring Finance Minister Grant Robertson, science communicator Siouxsie Wiles, Queenstown Mayor Jim Boult, funeral directors Francis and Kaiora Tipene, Student Volunteer Army founder Sam Johnson, the Prime Minister's Chief Science Adviser Juliet Gerrard, businesswoman Jenene Crossnan and Auckland City Missioner Chris Farrelly - from a kura kaupapa principal to real estate agents: The Covid Chronicles is a multi-stranded account of one of the most extraordinary times in Aotearoa's history, and the lessons we must heed for our future...
Second hand Trade Paperback