We have stopped buying, we are accepting lots for exchange and credit.
Our Winter operating hours are
Monday to Thursday 9am - 6pm
Friday 9am -7pm
Saturday 10am - 7pm
Sunday 11am - 6pm
Arty Bees is now operating under Orange restrictions.
You can order via our website.  All web orders are delivered via PBT Couriers or NZ Post. 
Store pick ups can be ordered online or organised by phone and email.
To keep up with all the Arty Bees news subscribe to our newsletter at the bottom of the page.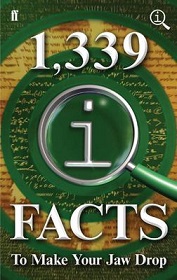 Title:
1,339 IQ Facts To Make Your Jaw Drop
For over a decade QI has been the smartest comedy show on British television, but few people know that they are also a major legal hit in Australia, New Zealand, Israel and Africa and an illegal one on BitTorrent. They also write books and newspaper columns; run a thriving and recently redesigned website, a Facebook page, a Twitter feed; and produce an iPhone App and a sister Radio 4 programme.
At QI's very core is the astonishing fact; painstakingly researched and distilled to a brilliant and shocking clarity. In Einstein's words: 'Everything should be as simple as possible, but not simpler.'
Pigs suffer from anorexia.
Wagner always wore pink silk underwear.
Rugby School's first official rugby kit in 1871 included a bow tie.
Lord Kitchener had four spaniels called Shot, Bang, Miss and Damn.
It is impossible to whistle in a spacesuit.