We are buying books again.
Please ring first if you have more than 3 boxes to bring in.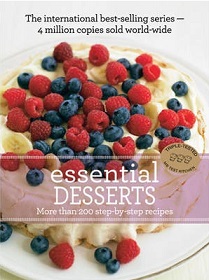 Title:
Essential Desserts - More than 200 Step-by-step Recipes
Published in more than 20 languages, the hugely successful Essential series has now been revised with stunning new contemporary design and photography. Still an indispensable reference library for enthusiastic beginners and advanced cooks, it provides a comprehensive guide to cooking techniques, expert tips and hundreds of timeless recipes. Essential Desserts is where you will find everything from the perfect fruit pie to deliciously rich cheesecakes, the classic souffle, comforting puddings and elegant chocolate creations. Packed with ingredient and utensil information, step-by-step photography and easy-to-follow and inspiring recipes, this book is the ultimate guide to all sweet endings....