Arty Bees is now operating under Orange restrictions.
You can order via our website.  All web orders are delivered via courier and NZ Post. 
Store pick ups can be ordered online or organised by phone and email.
To keep up with all the Arty Bees news subscribe to our newsletter at the bottom of the page.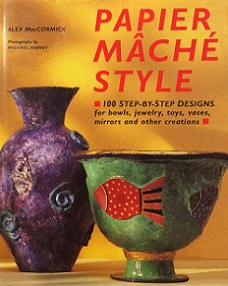 Title:
Papier Mache Style: 100 Step-by-step Designs
This is a step-by-step guide to making over 100 papier mache projects suitable for beginners or the more experienced artist. Featuring the work of modern designers, the projects range from jewellery, bowls, vases and mirrors to Christmas tree decorations, shelves, dolls, a toy theatre and a chess set. Clear explanations are given on how to mould paper strips or cast pulp using frameworks such as balloons, modelling plastic, mixing bowls or chicken wire. There are many illustrations of both the newest and the more traditional techniques for designing, painting and varnishing work to give it a truly professional finish.