We are currently not buying stock
We expect to start again in a couple of weeks
 
We regret any inconvenience this may cause
as usual we are still taking small exchanges and credits
to shop cards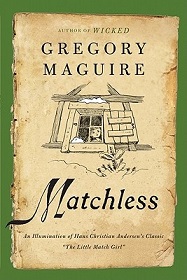 Title:
Matchless - An Illumination of Hans Christian Andersen's Classic 'The Little Match Girl'
With Matchless, Gregory Maguire has reinvented the Hans Christian Andersen classic The Little Match Girl for a new time and new audiences. Originally asked by National Public Radio to write an original story with a Christmas theme, the New York Times bestselling author of Wicked and A Lion Among Men was once again inspired by the fairy tales we all loved in childhood-and he composed a poignant and enchanting tale of transcendence. A lovely and beautifully illustrated gift, Matchless places Andersen's pitiful waif in the august company of Maguire's previously re-imagined Snow White (Mirror, Mirror), Cinderella (Confessions of an Ugly Stepsister), and, of course, the Wicked Witch and other denizens of Oz....