Our next book club will be meeting on Monday 12 July and we will be discussing books with a seafaring theme.
Call or email us to find out more about the book club.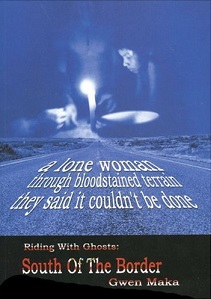 Title:
Riding with Ghosts: South of the Border
Her three sons grown and fled the nest, the forty-something Gwen Maka was living a happily chaotic life teaching English to spoiled rich kids in Istanbul, when she happened to glance at a friend's atlas. In an instant, she decided to cycle from Seattle to Panama. In this second part of her adventure, Gwen faces even greater challenges, trials, feats of endurance, and weird and wonderful encounters throughout her hazardous solo ride through the lands of the Conquistadors. She explores the towns, the ruins of earlier civilizations, the deserts, jungles, mountains, highways and byways of Mexico, Guatemala, El Salvador, Honduras, Nicaragua, all the way to Costa Rica. Everywhere she goes, Gwen is peculiarly sensitive to the vibrations of the dramatic (and brutal) past as it hangs shimmering, but invisible to most, in the tropical air and on the ancient stones. She breathes the same exciting life into every aspect of her journey. The scenic and nature descriptions are poetry; the poignant human consequences of present day economic realities and political catastrophes wring the heart. Yet she remains remarkably clear-eyed, and constantly alert for any trace of false sentiment. She is a sworn life member of the Anti-smugness Patrol, and a merciless de-bunker of any who offend, including herself.