Thanks to everyone who saw our note that we are buying again.
The response has been huge.
So huge that we need to slow down in order to get all the books
we have bought over the last 2 weeks on the shelf for you to buy.

We are still buying but selectively.
So, please call if you have more than 3 boxes.
Some sections are overflowing, particularly children's, detective and cooking.

On a similar note if you are looking for
Children's books, detective novels or cook books, we have heaps of new stock.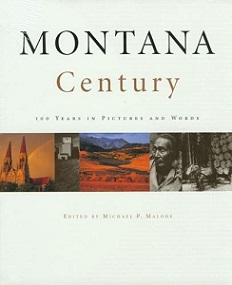 Title:
Montana Century: 100 Years in Pictures and Words
"Montana Century" chronicles the coming of age of the Treasure State in the twentieth century, going beyond the mere retelling of events to frame the Montana experience within the larger context of the American West, the nation and the world. Destined to become a collector's item, this magnificent book is more than a history. It is a poignant evocation of a beautiful, often conflicted, and beloved state. Essays by some of the best Montana writers are richly illustrated with more than 300 historical and contemporary photographs. This sumptuously produced book will be an elegant addition to any bookshelf.