We are now accepting books on exchange and credits to shop cards.
We are not buying stock for cash yet. We are operating under Level 2 restrictions.
Please note that we will require you
* to wear a mask at all times whilst instore
* sign in and sanitise your hands at entry
* maintain a 2m distance between you and other browsing customers
We are here to help you if you need assistance and are happy to organise a delivery for those who are still staying safe at home. Web orders will be processed and delivered via courier and NZ Post.
Store pick ups can be ordered online or organised by phone and email. We will send you an email when your pick up is ready to be collected.
To keep up with all the Arty Bees news, why not subscribe to our newsletter at the bottom of the page.
Our next book club meeting is on Monday 8 November at 6pm.  Check out Facebook or email us to find out more.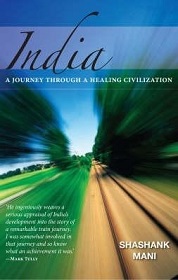 Title:
India - A Journey Through a Healing Civilization
In 1997, on the fiftieth anniversary of India's independence, Shashank Mani, an alumnus of IIT Delhi, embarked on an extraordinary emotional adventure with two hundred others...The purpose - to get a personal sense of how India had changed in fifty years of independence, and what it needed to do to accomplish its true potential. Accompanying him on his twenty-two days of travel across the country in a specially chartered train, were 200 young Indians from different walks of life - for, the author firmly believes, it is young, enthusiastic and enterprising citizens like these who will help shape the country's future.Together with his co-travellers the author makes an amazing journey of discovery that takes them from the Jallianwala Bagh in Amritsar, an enduring symbol of the price of freedom, to Bodh Gaya, where Lord Buddha gained Enlightenment; from Tilonia, and Bunker Roy's novel experiment in village development, to Ralegaon Siddhi, where Anna Hazare helps people gain economic growth, spiritual fulfilment and education.As India enters its sixtieth year of Independence - and as the original 1997 team plans one more ambitious journey across India - this story is a fitting reminder of where India once was and an indication of where we need to head....