We have stopped buying, we are accepting lots for exchange and credit.
Our Winter operating hours are
Monday to Thursday 9am - 6pm
Friday 9am -7pm
Saturday 10am - 7pm
Sunday 11am - 6pm
Arty Bees is now operating under Orange restrictions.
You can order via our website.  All web orders are delivered via PBT Couriers or NZ Post. 
Store pick ups can be ordered online or organised by phone and email.
To keep up with all the Arty Bees news subscribe to our newsletter at the bottom of the page.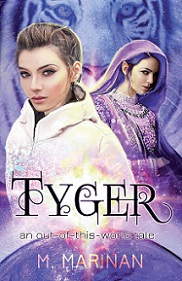 Title:
Tyger: An Out-of-this-world Tale (Signed Copy)
An alien culture. An exciting adventure. An imminent war...
As one of the few humans on planet Tyger, young colonist Astrid is thrilled to be invited to the local New Year festival. After all, who wouldn't want to experience the glamour of an alien palace ruled over by the charismatic Emir Raka?
But her adventure turns dangerous when someone close to her falls for a local who's completely off-limits. Their forbidden romance sets off a chain of events that impact both worlds, and Astrid herself becomes the target of a culture that believes in an eye for an eye.
Meanwhile, the festival proves to be a mere cover for someone's desire for power...at the expense of everyone around them. For the Tyger wealth and beauty hides a very ugly secret, one that will change everything the humans think they know about this planet and its people...