Our next book club will be meeting on Monday 12 July and we will be discussing books with a seafaring theme.
Call or email us to find out more about the book club.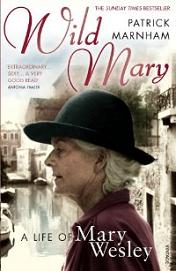 Title:
Wild Mary - A Life of Mary Wesley
The authorized, and astonishing, biography of Mary Wesley. Descended from the Duke of Wellington, Mary Wesley grew up a rebel, believing that she was her mother's least favourite child. Like many girls of her background, she married for escape, although her first marriage (to Lord Swinfen) was conventional. Her second husband, Eric Siepmann, a writer who never managed to make any money at all, was feckless and bohemian. In between Swinfen and Siepmann, she had a love affair with Czech war hero, Heinz Ziegler — and possibly with his brother at the same time; and in her later years enjoyed a torrid relationship with screenwriter Robert Bolt. At the outbreak of the Second World War she was, as she put it, "roped into intelligence," where she worked on breaking codes. Her experiences in MI5, and her many wartime love affairs, which form the core of this biography, also formed the cores of her novels. She wrote about the atmosphere of the home front and how war dislocates families, and how a sense of the imminence of death loosens the inhibitions. Through hours of interviews with Mary and access to her personal papers, Patrick Marnham discovered her story. It is a story of near-suicide and reckless courage, and tells of how a passionate and headstrong woman turned her back on her privileged position and succeeded in living life on her own uncompromising terms...