Thanks to everyone who saw our note that we are buying again.
The response has been huge.
So huge that we need to slow down in order to get all the books
we have bought over the last 2 weeks on the shelf for you to buy.

We are still buying but selectively.
So, please call if you have more than 3 boxes.
Some sections are overflowing, particularly children's, detective and cooking.

On a similar note if you are looking for
Children's books, detective novels or cook books, we have heaps of new stock.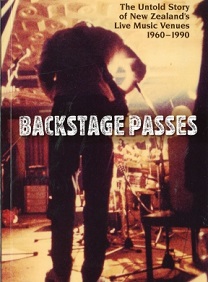 Title:
Backstage Passes - The Untold Story of New Zealand's Live Music Venues 1960-1990
New Holland Publishers 2018 New Zealand music was made on beer-stained stages, in grimy toilets and smoky back rooms. Backstage Passes charts the stories of the countries most celebrated live music venues. Hookers, heroin, cocaine, killings, sex in alleyways, punch-ups on dance floors - live music was the nexus around which a cultural history happened. Backstage Passes has the inside story on what it was like to be part of a vibrant scene when New Zealand was a rural backwater. First-hand accounts from muscicians, fans and bar owners bring each chapter to life. The beating heart of the book is the music and the spaces within which the music was played. Rock, pop, reggae, punk and hip-hop.....
Second hand Trade Paperback