Due to Covid 19, Arty Bees is
now closed until further notice.
Including on-line shopping.
We'll see you when things get back to normal.
Stay home and stay safe.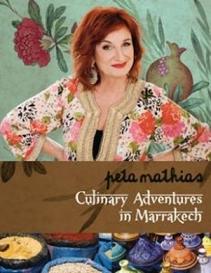 Title:
Culinary Adventures in Marrakech
I wake up in the morning and throw the shutters open. It's dawn and the first prayers of the day have just hurled over the rooftops of Marrakech. Breakfast is home-made jam, honey, tea, freshly squeezed orange juice and a basket full of freshly baked, still warm breads - m'lawi, flat bread, pancake and croissant. And with this, the irrepressible Peta Mathias begins her culinary adventures in one of the most exotic locations on earth: Marrakech in Morocco. From the beautiful and eccentric Hotel du Tresor and the souk at Ait Ourir, to the traditional home kitchen of Mohamed and Latifa and the exquisite cafes and pattiseries in the medina, discover the food, people and atmosphere that defines Marrakech. Based on the six-part television series Peta Unplugged in Marrakech....