Our next book club will be meeting on Monday 14 June and we will be discussing books written by New Zealand authors.
Call or email us to find out more about the book club.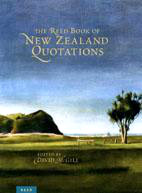 The Reed Book of New Zealand Quotations contains the best and worst that has been said about New Zealanders. Over 3000 quotations present the nation in every mood and situation, from the sublime to the silly. From the first wary encounters between Maori and European, New Zealanders are depicted at work and play, in sadness and in high spirits. This is a comprehensive cross-section of our emerging identity, warts and all. This book includes the lamentations of Ratana and Titokowaru, the shock-horror and exhilaration of pioneer explorers such as Cook and his crew and, later, touring glitterati such as Rudyard Kipling, Mark Twain, Samuel Butler, Noel Coward and James Michener. The writers are there too - Katherine Mansfield's goosebump precision, prophet-poet James K Baxter, earthy Ursula Bethell, exalted Maurice Shadbolt, and the mid twentieth century logjam of satirical poets Glover, Fairburn, Mason and Curnow. New Zealand politicians have delivered some memorable quotes on the soapbox, from mighty King Dick Seddon and his expansive colleague William Pember Reeves through the trenchant socialist wit of Semple and Lee to the memorable outbursts from Holyoake, Muldoon and Lange. Great soldiers such as Kippenberger and Freyberg spoke as well as they fought; and scientist Rutherford had a way with words as well as with atoms. Our sportsfolk prove they are not the least bit dour; and our comics deliver, from the rural comedy of Frank S. Anthony through Barry Crump to the urbane idiocies of John Clarke, Tom Scott and AK Grant. This book is a storehouse of memorable quotations for every occasion. It is a browser that should be in the favourite reading possie in every New Zealand home.