We are now accepting books for exchange only.
Please ring first if you have more than 3 boxes to bring in.
We are not buying books for cash yet. We will keep you posted.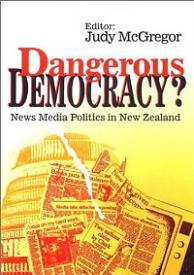 Dunmore Press, 1996. In very tidy condition. The centrality of the news media to contemporary politics demands that performance of political journalism in New Zealand is scrutinised and its function vigorously debated. Issues such as the constitutional role of political journalism, what MMP will mean for the news media, the influence of political journalism and of talkback radio, how female politicians are portrayed in the news media, the coverage of Maori politics, media manipulation, the role of the Parliamentary Press Gallery, public opinion polls and political cartooning are debated in Dangerous Democracy? Sir Geoffrey Palmer, Peter Hawes, Nigel Roberts, Stephen Levine, Mike Moore, Judy McGregor, Steve Maharey, Jim Tully, Tom Frewen, Alastair Morrison, Alister Browne, John Saunders, Janet Hoek, Philip Gendall and John Harvey debate the controversial subject of whether political journalism in New Zealand enhances or debilitates the dialogue of democracy.