We are open on the Wellington Anniversary from 12pm until 6pm.
Arty Bees is now operating under Orange restrictions.
You can order via our website.  All web orders are delivered via courier and NZ Post. 
Store pick ups can be ordered online or organised by phone and email.
To keep up with all the Arty Bees news subscribe to our newsletter at the bottom of the page.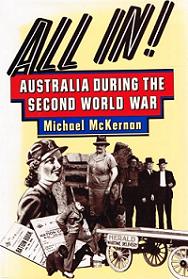 The impact of war on life in Australia, how Australians reacted to the Second World War and how it changed Australian society. It is the story of individual and collective effort, of shortages, rationing and long hours of hard work, of time given freely in voluntary labour, and of a cheerful acceptance of the ever-present jingle of collection boxes. It is the story of the women who enlisted in the workforce in greater numbers than ever before, and of the stern directives of 'the Manpower.' It is also the story of increased attendances at sports and entertainments and record betting takings. All In! evokes wartime Australia - the good and the bad...