Thanks to everyone who saw our note that we are buying again.
The response has been huge.
So huge that we need to slow down in order to get all the books
we have bought over the last 2 weeks on the shelf for you to buy.

We are still buying but selectively.
So, please call if you have more than 3 boxes.
Some sections are overflowing, particularly children's, detective and cooking.

On a similar note if you are looking for
Children's books, detective novels or cook books, we have heaps of new stock.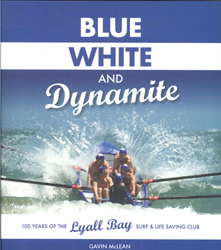 Title:
Blue White and Dynamite
The Lyall Bay Surf Life Saving Club was the first surf life saving club to patrol in NZ and celebrated turning 100 years old on 15th August 2010. Lyall Bay is on the south coast of Wellington city, next to the airport and patrols Lyall Bay beach. The history of 100 years of the Lyall Bay Surf Life Saving Club was written by prominent historian Dr Gavin McLean, it tells the story of the early development of Lyall Bay - its popularity rocketed when trams reached there in 1909/1910 - and the fascinating history of the people and events that have shaped the beach and the club. It covers the modern day club and also has a chapter on Wellington Ladies (1940-1976).It is a very readable, well illustrated book.