UPDATE - Selling books to Arty Bees.
Things are a bit uncertain at the moment
so we are going to press "Pause" on buying stock for a week or so.
We will post updates here as things change.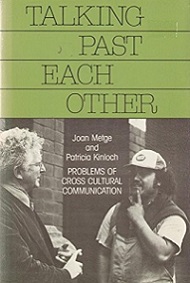 Title:
Talking Past Each Other - Problems of Cross Cultural Communication
Victoria University Press, Wellington, 1978. 56 page booklet. Previous owner name on page edges, on front cover and inside. Fading to spine. The text of a paper prepared for the NZ OECD "Conference on Early Childhood Care & Education" at Massey University from 5-10 February, 1978.