We are buying books again.
Please ring first if you have more than 3 boxes to bring in.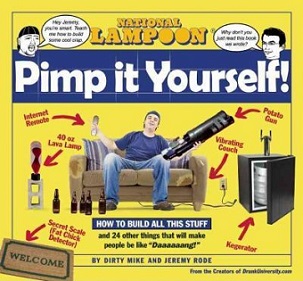 Title:
National Lampoon: Pimp It Yourself!
This is a hilarious do-it-yourself guide to making must-have gadgets and life-style accoutrements for the college connoisseur. The brainchildren of an evil-genius engineering PHD and a comedian, these frat-cessories include the Beer Robot, Toilet Paper Cannon, Rotating Stripper Pole, Vibrating Couch, 40-ounce Lava Lamp and Drink Dispensing Jacket. The "Jackass" of science textbooks, "Pimp-It-Yourself" is a dorm-room must have and a How-To for the Probably-Shouldn't.