We are delighted to be open
We are open normal hours.
There are Covid-19 protocols in place to keep our staff and customers safe.
Please abide by these and please don't visit us if you are feeling unwell.
Please note, we will NOT be buying or exchanging books under Level 2.
Thank you for your on-line support during Level 3 and for your patience with the delays in delivery.
We look forward to seeing you all in store soon.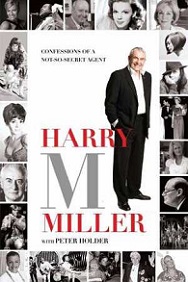 Title:
Harry M Miller - Confessions of a No-So-Secret Agent
Published by Hachette Australia, in Australia and New Zealand, 2009, 360 pages. As a young man, Harry M Miller set out to become one of the world's youngest showbiz impresarios. He left NZ for Australia in the late sixties and set about making his mark. He went on to become one of the Australian media and entertainment industry's most influential men and over forty years later the people he has worked with makes a very impressive roll call...Ella Fitzgerald, Louis Armstrong, Sammy Davis Junior, Chubby Checker, Tom Jones, Shirley Bassey, the Rolling Stones, John Farnham, Marcia Hines, Graham Kennedy, Barry Humphries, Alan Jones, Lindy Chamberlain, Stuart Diver and Maggie Tabberer among them. Harry M Miller has plenty of stories to tell about high-profile people and the A, B and C lists in-between. His memoir, Confessions of a 'Not-So-Secret Agent', is full of witty and entertaining anecdotes from Harry's extraordinary life.