We are delighted to be open
We are open normal hours.
There are Covid-19 protocols in place to keep our staff and customers safe.
Please abide by these and please don't visit us if you are feeling unwell.
Please note, we will NOT be buying or exchanging books under Level 2.
Thank you for your on-line support during Level 3 and for your patience with the delays in delivery.
We look forward to seeing you all in store soon.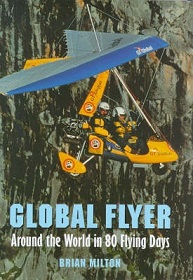 Title:
Global Flyer - Around the World in 80 Flying Days
Between March and July 1998 Brian Milton and fellow pilot Keith Reynolds flew a single-engined weight-shift microlight - GT Global Flyer - 24,301 miles around the world in 80 days. This is an account of their journey. Their flight retraced, as far as possible, the route taken by Phileas Fogg and his French manservant Passpartout in Jules Verne's classic "Around the World in 80 Days", first published 125 years ago. GT Global Flyer, virtually a large hang glider with a motorbike slung underneath, is the smallest and lightest aircraft ever to attempt such a hazardous journey. Leaving London, they flew through Europe and the Middle East and onward through China, Japan, and into Russia. Crossing the Pacific they reached Alaska and flew through Canada and America before going to Greenland and Iceland and then to Scotland and finally London....