We are delighted to be open
We are open normal hours.
There are Covid-19 protocols in place to keep our staff and customers safe.
Please abide by these and please don't visit us if you are feeling unwell.
Please note, we will NOT be buying or exchanging books under Level 2.
Thank you for your on-line support during Level 3 and for your patience with the delays in delivery.
We look forward to seeing you all in store soon.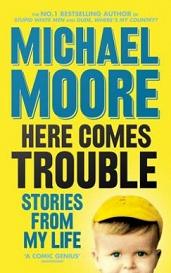 Before he became an Oscar-winning filmmaker and all-round thorn-in-the-side of corporate America, it turns out that throughout his life Michael Moore had an uncanny knack for showing up just where history was being made. One moment he's a lost eleven-year-old boy being found by Bobby Kennedy; the next, he's in a cemetery with a dazed and confused Ronald Reagan. He begins his first underground newspaper in fourth grade; sixteen years later, the police are raiding his printing office. On top of all that, he becomes one of the youngest elected officials in the country at eighteen - but not before planning a 'dry-run' escape to Canada with his stoner friends in case they get drafted to Vietnam. Fast-forwarding to 2003, his Oscar acceptance speech leaves audiences open-mouthed. And none of that even comes close to the night a friendly priest decides to show him how to perform his own exorcism. Here Comes Trouble takes readers on an unforgettable, take-no-prisoners ride through the life and times of Michael Moore. It might just be the most hilarious, provoking, poignant and inspiring non-autobiography you ever read....
Second hand Trade Paperback