Our next book club will be meeting on Monday 12 July and we will be discussing books with a seafaring theme.
Call or email us to find out more about the book club.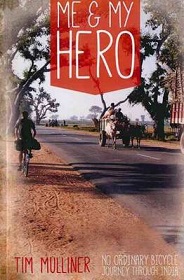 Title:
Me and My Hero: No Ordinary Bicycle Journey Through India
Tim Mulliner decides to forgo the lightweight touring bicycle and expensive modern accompaniments and get back to basics. Starting in Nepal, he purchases himself a Hero - the largest manufactured bicycle in the world. After pushing his bike over the Himalayan foothills, Tim dissects India from north to south passing through some of the poorest and richest regions in India. Me and My Hero tells the story of Tim's impressions of rural and urban India as he struggles to come to terms with the rigid caste system that still dictates life for many. It details the rigour and joy of travelling by bicycle in what is arguably one of the most colourful and fascinating countries in the world.