Update: Selling books to Arty Bees.
Many of you have been selling books to us, which is great, but we will be pausing our buying in December.
We are currently being very "choosy" when buying books.
Please call (04)3845339 if you have more than 3 boxes of books.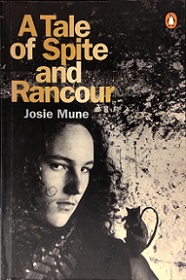 Title:
A Tale of Spite and Rancour
Penguin Books, 1997. Good second-hand condition. Spite and Rancour are both characters in the novels that plain Jane Martin writes, while her own history is a parade of larger-than-life personalities who drives her to despair - a lying and deceitful mother, malicious sisters, and the man in the felt hat who is promising the earth while tearing a family's small world apart.