From Wednesday 8 September we will operating under Level 2 restrictions.  We will be returning to usual opening hours.
Please note that we will require you
* to wear a mask at all times whilst instore
* sign in and sanitise your hands at entry
* maintain a 2m distance between you and other browsing customers
We are here to help you if you need assistance and are happy to organise a delivery for those who are still staying safe at home.
We will not be buying books until we return to Level 1.
Web orders will be processed and delivered via courier and NZ Post.  Store pick ups can be ordered online or organised by phone and email.  We will send you an email when your pick up is ready to be collected. 

To keep up with all the Arty Bees news, why not subscribe to our newsletter at the bottom of the page. 
Our next book club meeting is on Monday 11 October at 6pm.  Our theme for this month is the book that you would recommend to almost anyone.  Check out Facebook or email us to find out more.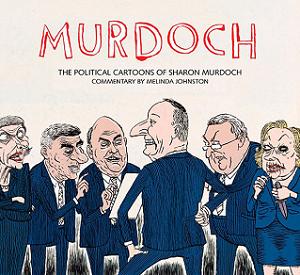 Title:
Murdoch - The Cartoons of Sharon Murdoch
Sharon Murdoch, 2016 Canon Cartoonist of the Year, is a bold new voice in New Zealand cartooning. As the regular cartoonist for the Sunday Star Times and the Press, she provokes and delights readers with her witty and often hilarious observations, and her hard-hitting and insightful social and political analysis.
In Murdoch, Melinda Johnston's commentary sets the cartoons within their historical context, while her introduction locates the work within New Zealand's cartooning history. Featuring over 150 full-page cartoons, which highlight the breadth and depth of Sharon Murdoch's work, this book will entertain and educate any reader with an interest in New Zealand's contemporary social and political history.