We are open on the Wellington Anniversary from 12pm until 6pm.
Arty Bees is now operating under Orange restrictions.
You can order via our website.  All web orders are delivered via courier and NZ Post. 
Store pick ups can be ordered online or organised by phone and email.
To keep up with all the Arty Bees news subscribe to our newsletter at the bottom of the page.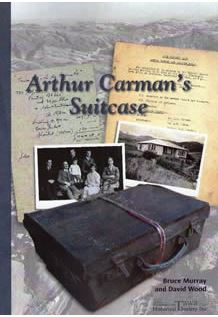 Title:
Arthur Carman's Suitcase - The Life and Times of Arthur Herbert Carman
Published by the Tawa Historical Society Inc., Tawa, Wellington, 2011, A-4 size 156 pages. Minor signs of secondhand wear to cover, some markings beside text.
Arthur Carman lived all of his live in areas known as Johnsonville and Tawa, not far from Wellington in New Zealand. He may not be readily recognisable but to the cricket and rugby purist he is well known. Carman was the publisher and founder of the New Zealand Cricket Almanack and the New Zealand Rugby Almanack, books which still exist today. What is not universally known about Arthur Carman was that he was a committed Christian and active Methodist who would not sit back when it came to dealing with real life issues. He did not seek the limelight and did what was needed to be done. He was a conscientious objector during the Second World War, went before the courts and was imprisoned. He was a significant researcher and wrote and published many books on New Zealand history, cricket and rugby. This book not only looks at his contribution to society but undertakes a study of his life and the reasons for his stand on many issues. The material for the book was discovered in a suitcase by members of the Tawa Historical Society. The authors, David Wood and Bruce Murray, have dealt with their subject in a sympathetic yet reflective manner. Bruce Murray is the former Wellington and New Zealand batsman.