Our next book club meeting is on Monday 9 August.  Our theme for this month is music.
Call or email us to find out more about the book club.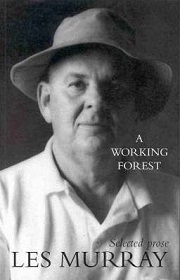 Title:
A Working Forest - Selected Prose
Murray writes about many subjects, such as growing up in the bush, the republic, religion in Australia, poetry, Antarctica and the Australian Council. The book includes Murray's major 10,000 word autobiographical memoir, "In a Working Forest", and his theory of erocide; the sexual destruction of a person through shaming...
Second hand Trade Paperback