UPDATE - Selling books to Arty Bees.
We are accepting books for exchange at the moment.
We may buy selectively for cash, but please contact us first.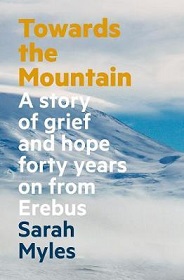 Title:
Towards the Mountain - A Story of Grief and Hope Forty Years on from Erebus
When an Air New Zealand sightseeing plane crashed into the lower slopes of Mount Erebus in Antarctica in 1979, all 257 people on board lost their lives. The Erebus disaster sent shockwaves through our small country - it is said that 'everyone knew someone' involved. What's more, the aftermath wreaked its own trail of destruction, with the Royal Commission of Inquiry coining the oft-quoted phrase 'an orchestrated litany of lies' to describe the airline management's conduct. The surrounding media storm drowned out the stories of those at the heart of the tragedy: the families who lost someone, and the people who worked so hard to bring loved ones home. Their stories were forgotten - until now. Marking the fortieth anniversary of that horrific event, this is the first book on the topic written by a family member. In Towards the Mountain, Sarah Myles uses extensive research and interviews to weave together the stories of her grandfather, his fellow adventurers and the first responders. This is the story of what happened and its enduring impact on those most affected. What emerges is a testament to the possibility of hope.
Second hand Trade Paperback