We are delighted to be open
We are open normal hours.
There are Covid-19 protocols in place to keep our staff and customers safe.
Please abide by these and please don't visit us if you are feeling unwell.
Please note, we will NOT be buying or exchanging books under Level 2.
Thank you for your on-line support during Level 3 and for your patience with the delays in delivery.
We look forward to seeing you all in store soon.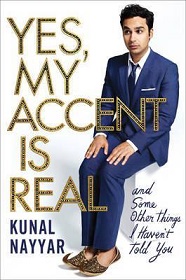 Title:
Yes, My Accent is Real - A Memoir
A delightfully funny collection of essays by the Indian-American actor, Kunal Nayyar, who plays the loveable, sincere yet incurably dorky character Raj in The Big Bang Theory. In this revealing book, Kunal Nayyar traces his journey from a nervous little boy in New Delhi who mistakes an awkward first kiss for a sacred commitment, gets nosebleeds chugging Coca-Cola to impress the other students at his all-boys school to the confident guy on the set of one of television's most-watched shows who one day even gets to kiss the woman of his childhood dreams: Winnie Cooper from The Wonder Years. Throughout, Kunal introduces us to the people who helped him grow, chief among them his slick moustachioed father. From his father, Kunal learned the most important lessons of life: treat a beggar as you would a king. There are two sides to every story. A smile goes a long way. And, when in doubt, use a spreadsheet. Full of heart, but never taking itself too seriously, this is a coming-of-age story about a young man trying to find his place in between cultures, growing into himself as a person and a performer, and of the many embarrassing incidents that somehow miraculously prepared him to land the role that would make his career.
Second hand Trade Paperback