We are buying books again.
Please ring first if you have more than 3 boxes to bring in.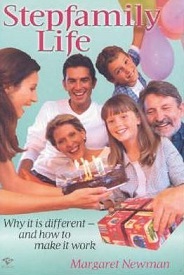 Title:
Stepfamily Life - Why It is Different - and How to Make It Work
In this book, Margaret Newman, an experienced couple and family counsellor and a member of a stepfamily herself, describes challenges that members of a stepfamily usually encounter. these include managing the complications of stepfamily life, understanding how to help children through difficult times, and ways to maintain a loving relationship. Using case studies and the experience of working with a broad range of stepfamily situations, she examines problem areas and explains what is happening and what to do about it. Margaret Newman is co-author of the acclaimed Really Relating and co-founder of the Jansen Newman Institute in Sydney.
Second hand Trade Paperback