We are now accepting books for exchange only.
Please ring first if you have more than 3 boxes to bring in.
We are not buying books for cash yet. We will keep you posted.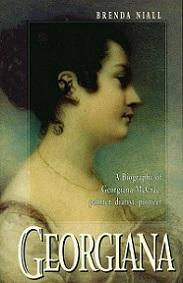 Title:
Georgiana - A Biography of Georgiana McCrae, Painter, Diarist, Pioneer
After a childhood among artists, French emigres and English radicals in Regency London, Georgiana lived as a young woman at her father s castle in the Highlands. A gifted portraitist, professionally trained in London, she earned her own living in Edinburgh before making the choice between marriage and a career. After marrying Andrew McCrae in 1830 she followed her husband in his erratic progress from Edinburgh to London and then to Port Phillip, where he was successively lawyer, squatter and goldfields magistrate. The varied fortunes of the McCraes are recounted in a story whose tragic elements are counter-balanced by the strength of mind, the lively wit and creativity of Georgiana. By allowing Georgiana s own voice to be heard through her letters and journals Brenda Niall has brought a legendary colonial figure into authentic vibrant life.