We are delighted to be open
We are open normal hours.
There are Covid-19 protocols in place to keep our staff and customers safe.
Please abide by these and please don't visit us if you are feeling unwell.
Please note, we will NOT be buying or exchanging books under Level 2.
Thank you for your on-line support during Level 3 and for your patience with the delays in delivery.
We look forward to seeing you all in store soon.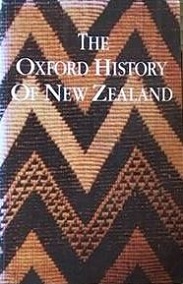 Title:
The Oxford History of New Zealand
Published by Oxford University Press, Auckland, 1984, 572 pages. This is a social history, not only in those chapters dealing with social relationships, class structure and demography, but also in chapters that focus on economics, politics, married history, and cultural events. Includes chapter notes, tables, maps, glossary of Maori terms, extensive bibliography and index.
Second hand Trade Paperback