We are currently not buying stock
We expect to start again in a couple of weeks
 
We regret any inconvenience this may cause
as usual we are still taking small exchanges and credits
to shop cards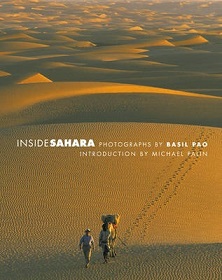 In the spring of 2001, photographer Basil Pao accompanied actor (and former Monty Python member) Michael Palin and a BBC film crew into the heart of the world's largest desert--the Sahara. The result of that journey is these remarkable pictures of landscapes and people, taken on a route that covered nine countries and an astonishing variety of cultures. Even when in some of the most hostile conditions known to man, Pao succeeds in capturing the awe-inspiring beauty of the region. Here is Tangier, known for its incredible light; scenic old towns, such as Chefchouen in the Jabala Mountains, barely changed since the 15th century; men, working in tanneries, their bodies balanced over gigantic holes filled with dye; an oil refinery aflame; the River Niger bathed in a golden glow; the beautiful faces of pastoral nomads; the magnificent glory of endless sand dunes; and other unforgettable pictures. Plus: behind the scene photos of Michael Palin and the film crew.