We are open on the Wellington Anniversary from 12pm until 6pm.
Arty Bees is now operating under Orange restrictions.
You can order via our website.  All web orders are delivered via courier and NZ Post. 
Store pick ups can be ordered online or organised by phone and email.
To keep up with all the Arty Bees news subscribe to our newsletter at the bottom of the page.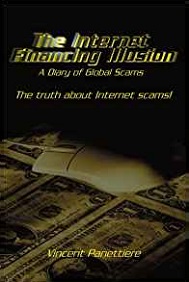 Title:
The Internet Financing Illusion - A Diary of Global Scams
Millions of people have been the victims of Internet scams in recent years. The Internet Financing Illusion explores one businessman's personal journey through the perplexing and often dark world of cyberspace and profiles the faceless financial scam artists who lurk behind keyboards and computer screens.In 1999, Vincent Panettiere started searching for ways to finance his film production company. More than two hundred leads and several months later, he was unwittingly thrust into an Internet adventure that would consume his life.
The Internet Financing Illusion delivers firsthand information and invaluable guidance to keep you scam-proof in cyberspace.
Second hand Trade Paperback