We are delighted to be open
Our Queen's Birthday hours on Monday 1 June are 12 till 6.
There are Covid-19 protocols in place to keep our staff and customers safe.
Please abide by these and please don't visit us if you are feeling unwell.
Please note, we will NOT be buying or exchanging books under Level 2.
Thank you for your on-line support during Level 3 and for your patience with the delays in delivery.
We look forward to seeing you all in store soon.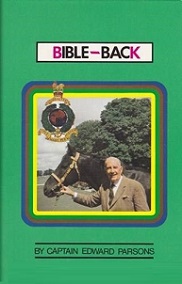 Published by Edward Parsons, Auckland, (no publishing date), 223 pages. This story tells of how Captain Parsons, despite all odds, succeeded in his efforts to join the Royal Marines during the 1914-1918 war and of the frustrations and hardships he endured during those early days. It also relates adventures in Turkey, the South Seas, the Defence of Britain, the Invasions of Sicily and Normandy, during a career of nearly 36 years with the Colours, with Commissions in the Royal Marines and the NZ Regular Force on the way. Captain Parsons became an enthusiastic cricketer, coach and administrator. He also became well known in the catering world as an adviser, judge, examiner and writer. He is well known in NZ as an owner, trainer and breeder of racehorses...